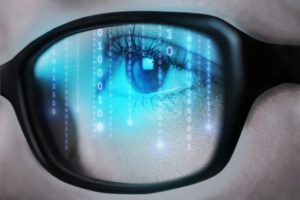 Stepping outdoors into sunlight; flipping on a wall switch indoors; turning on your computer, phone, or other digital devices — all of these things result in your eyes being exposed to a variety of visible (and sometimes invisible) light rays that can have a range of effects. Most people are aware that sunlight contains visible light rays and also invisible ultraviolet rays that can tan or burn the skin.
What is Blue Light?
Sunlight is made up of red, orange, yellow, green, blue, indigo, and violet light. When combined, it becomes the white light we see. Each of these has a different energy and wavelength. Rays on the red end have longer wavelengths and less energy. On the other end, blue rays have shorter wavelengths and more energy. The light that looks white can have a large blue component, which can expose the eye to a higher amount of wavelength from the blue end of the spectrum.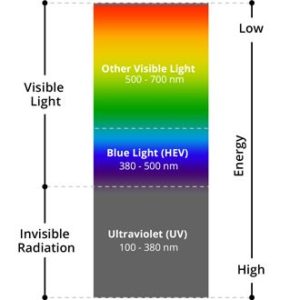 How Does Blue Light Affect the Eyes?
Almost all visible blue light passes through the cornea and lens and reaches the retina. This light may affect vision and could prematurely age the eyes. Early research shows that too much exposure to blue light could lead to: parts of the eye.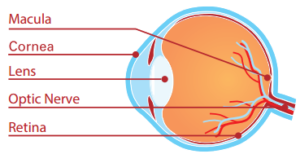 Digital eyestrain: Blue light from computer screens and digital devices can decrease contrast leading to digital eyestrain. Fatigue, dry eyes, bad lighting, or how you sit in front of the computer can cause eyestrain. Symptoms of eyestrain include sore or irritated eyes and difficulty focusing.
What Can You Do to Protect Your Eyes from Blue Light
If constant exposure to blue light from smartphones, tablets, and computer screens is an issue, there are a few ways to decrease exposure to blue light: Screen time: Try to decrease the amount of time spent in front of these screens and/or take frequent breaks to give your eyes a rest.
– Filters: Screen filters are available for smartphones, tablets, and computer screens. They decrease the amount of blue light given off from these devices that could reach the retina in our eyes.
– Computer glasses: Computer glasses with yellow-tinted lenses that block blue light can help ease computer digital eye strain by increasing contrast.
– Anti-reflective lenses: Anti-reflective lenses reduce glare and increase contrast and also block blue light from the sun and digital devices.
Schedule an appointment to talk about your options on how to avoid blue light exposure.