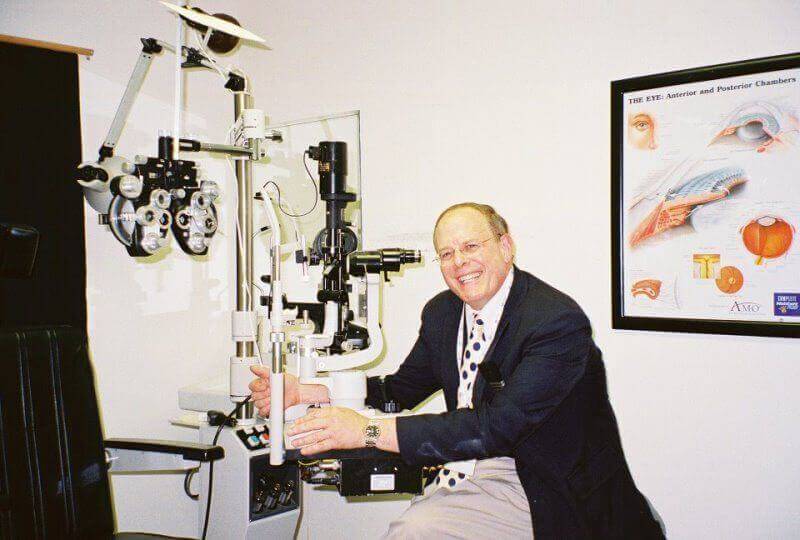 Independent Doctors Office
Dr. Stanley Miller
Independent optometric practice located inside Weston Eyecare is pleased to announce on staff optometrist Dr Stanley Miller!
Dr. Miller has been servicing Weston patients for over 30 years, and is now accepting new patients to the practice. Dr. Miller offers patients quality comprehensive eye examinations, and specialized fitting of contact lenses including the latest designs in astigmatic and bifocal contact lenses.
In addition, Dr. Miller provides care through the diagnosis and management of various eye conditions and diseases such as ocular infections and inflammations. Dr Miller also works closely with local ophthalmologists in managing other eye diseases and conditions, such as glaucoma and diabetic retinopathy.
Aside from excellent clinical skills, Dr.Miller has a warm, compassionate manner towards all patients, and strives to make your visit here enjoyable.
Appointments can be made online or by contacting the office directly at 781-891-3937.
We look forward to serving you and your family.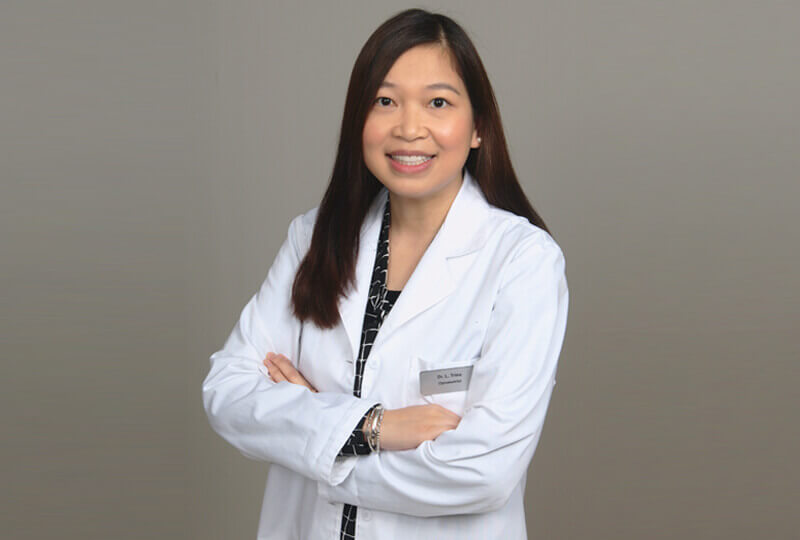 Our team is growing
Dr. Linh Trieu has been practicing optometry for 10years. She graduated from the NewEngland College of Optometry and has continued to practice in MA. Dr. Trieu has been interested in the Optometry field sinceHigh School where she started working in a very high profile Optometrist officein her home town. She moved up to become manager of one of four offices in the city. She continued her interest in the field and entered in the New England College of Optometry to obtain her Doctorate of Optometry. Dr. Trieu has a lot of experience working with many different types of patients, from young children at the Fairfield Eye Care specializing in Pediatric Vision Therapy to veterans at the VA Hospital Baltimore.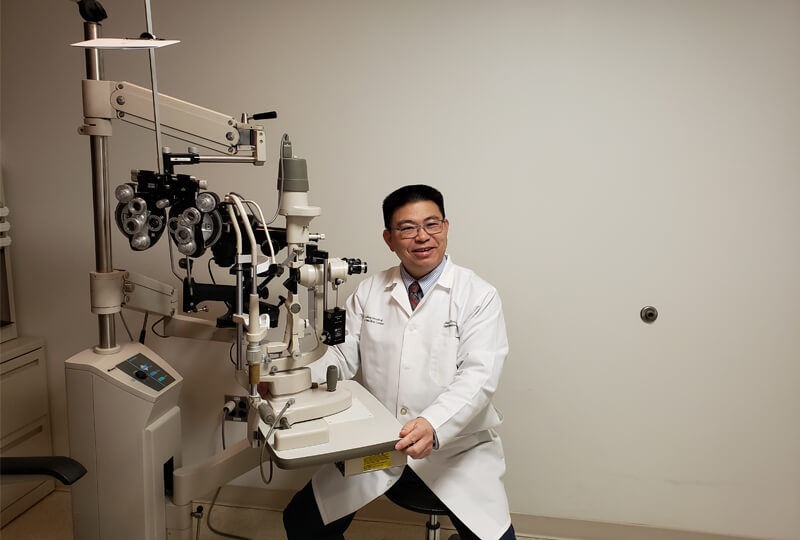 Independent Doctor of Optometry
Jiayi Zhou, OD, MD, PhD
JZ Eye Care
Originally a neurologist with over 15 years of decorated and storied clinical experience, Dr. Zhou later obtained his Doctor of Optometry (O.D.) from the New England College of Optometry. In addition to his O.D., Dr. Zhou has a Ph.D. in neurology/neuroscience from the University of Tokyo School of Medicine and a second medical degree from Sichuan University West China School of Medicine which further complement Dr. Zhou's class-leading services in specialty eye and vision care.
Dr. Zhou is now accepting new patients at our office, providing comprehensive eye exams (including eyeglasses prescription), contact lens fitting, neuro-ophthalmology/optometry consultation, diplopia/binocular vision care, low vision care, and the diagnosis & treatment of various eye diseases.
Dr. Zhou works closely with both local ophthalmologists/PCPs and his colleagues spanning all specialties in ophthalmology at Lahey Hospital and Medical Center (Beth Israel Lahey Health), in the co-management of medical and surgical treatment of various eye and systemic diseases, such as glaucoma, cataracts, age-related macular degeneration, retinal detachment, retinal arterial or vein occlusions, hypertensive retinopathy, and diabetic retinopathy. Dr. Zhou is also a member of the Massachusetts Society of Optometrists, American Optometric Association, National Glaucoma Society, and American Diabetes Association.
Appointments with Dr. Zhou can be made either online or by calling our office at 781-891-3937. For patients with international backgrounds, Dr. Zhou speaks fluent Chinese and Japanese in addition to English.
We look forward to serving you and your family with high-quality care!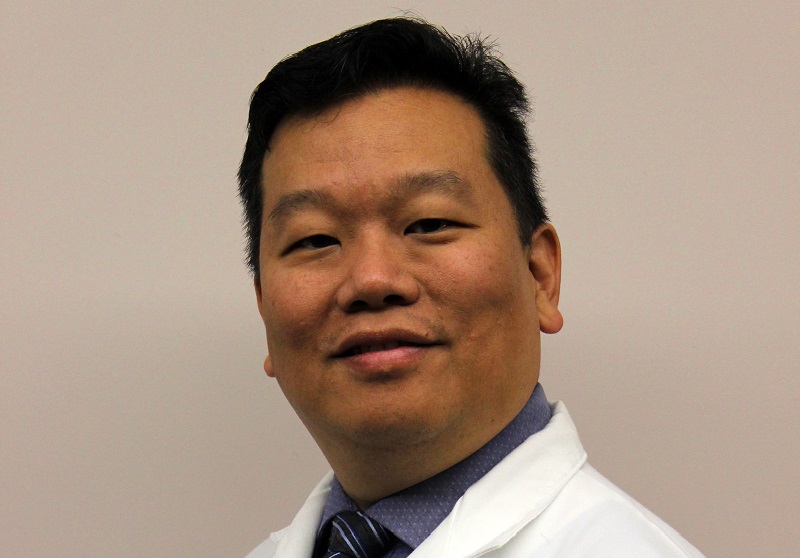 Doctor of Optometry
Dr. David Chiang
Dr. David Chiang has been in practice for over 20 years. He received his Bachelor of Science in Biology with a minor in Theater from the University of California at San Diego and his Doctor of Optometry from the New England College of Optometry. He has current Therapeutic Pharmaceutical Certification in both New York and Massachusetts.
Dr. Chiang brings his experiences in different practice settings including glasses, contact lenses, ocular disease, and more than 15 years co-managing over 30,000 LASIK and PRK eye surgeries.
Dr. Chiang is very passionate about his profession and takes great pride in providing the best vision care that is focused on the needs of each individual patient.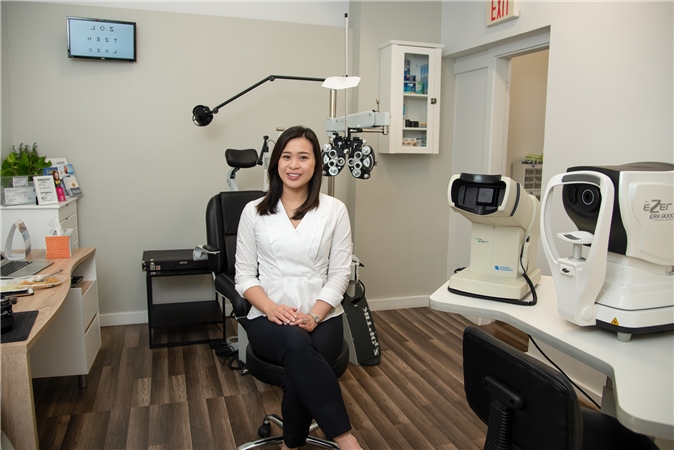 Doctor of Optometry
Dr. Mark
Dr. Cassandra Mark received her Doctorate of Optometry degree from the New England College of Optometry. She received clinical honors in her training at Boston Medical Center, West Haven Veterans Association Hospital, New England Eye, Boston University Eye Associates, Dimock Community Health Center.
She has a broad range of experience with contact lenses, pediatrics, and individuals with disability, with special interests in dry eye and ocular disease.
During optometry school, Dr. Mark joined 15 other medical professionals to provide eye care to over 450 citizens of Honduras.
Dr. Mark was born and raised in Toronto and attended the University of Waterloo. Her interests include traveling, golf, skiing, and baking for the office staff.